NZ is set to be hit by a wave of seasonal viruses. Photo / Getty Images As Aotearoa New...
Kahu 31 May, 2022 05:00 PM2 minutes to read Artist Rose Kirk with her ink on canvas of her...
PM Jacinda Ardern and NZ's Ambassador in the US, Rosemary Banks. Photo / Christian Carroll Prime Minister Jacinda Ardern...
Waka Kotahi says speed restrictions and lane closures on the Harbour Bridge are likely, and a full closure is...
Bridgewater Apartments at Paihia. Photo/Google Streetview A lawyer and Justice of the Peace who once acted for his friends...
Test your brains with the Herald's afternoon quiz. Be sure to check back on nzherald.co.nz for the morning quiz...
Police Minister Poto Williams weighs in on recent ram raids while National call for policy change. Video / NZ...
Police were called to the scene about 5.15am. Photo / NZME A crash between a motorcycle and a car...
A gang feud has spilled into Auckland suburbs with police attending at least a dozen incidents in recent days...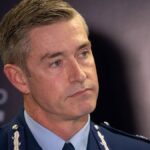 Thomas Phillips has been missing for five months with his three young children, Jayda, Ember and Maverick Phillips. Photo...