Giving Myself a break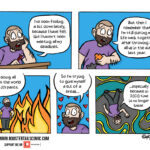 Ooppph this past year has been a time. And by 'time' I mean 'mess'.
Also, a project I've been working on for a little bit has just been launched (proving that I can meet some deadlines!!): Queer Comic Conversations for the Goethe Institute with fellow artist Anna Heger. We'll be putting up an instalment each month until December, on a different topic relating to queer communities – and I'm  very excited to share it with you all.