Talisman Hotel and Restaurant head chef Mahesh Peters with two avocado-inspired dishes. The humble avocado is the star of...
Te Pāti Māori co-leader Debbie Ngarewa-Packer said the hikoi was a message to Prime Minister Christopher Luxon and his...
It is alleged Lymon Ormsby yelled "Killer Beez" following the alleged assault on the Whangārei man. Photo / NZME...
Emergency services are battling a large blaze at a building in central Christchurch tonight on Colombo St. Photo /...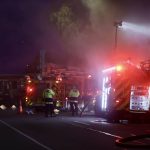 Prime Minister Christopher Luxon is yet to confirm if the policy to allow landlords to deduct 60 per cent...
Police investigating the killing of toddler Baby Ru, have released photos of several items central to the investigation including...
A man employed by Te Whatu Ora has appeared in court charged with dishonestly accessing vaccination data, which was...
At present, 65-75 per cent of New Zealand's velvet crop is exported in a frozen form to China. Photo...
Te Whatu Ora said the former employee had no clinical background or expert vaccine knowledge, and there was no...
Raf Manji became the leader of the Opportunities Party in January 2022. Photo / RNZ By RNZ The leader...