Heavy rain in the North Island continues today, with eastern parts in the firing line as other parts of...
Prominent Queenstown developer Kevin Carlin has died suddenly. Photo / James Allan Prominent property developer and owner of a...
Heart problems are contributing to many dire health outcomes. Photo / Getty Images Cardiovascular diseases kill nearly 10,000 New...
Māori Development Minister Tama Potaka says he strongly disagrees with criticism that alleges the Government is "anti-Maori". Potaka (Ngāti...
Talisman Hotel and Restaurant head chef Mahesh Peters with two avocado-inspired dishes. The humble avocado is the star of...
Te Pāti Māori co-leader Debbie Ngarewa-Packer said the hikoi was a message to Prime Minister Christopher Luxon and his...
It is alleged Lymon Ormsby yelled "Killer Beez" following the alleged assault on the Whangārei man. Photo / NZME...
Emergency services are battling a large blaze at a building in central Christchurch tonight on Colombo St. Photo /...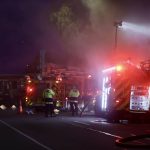 Prime Minister Christopher Luxon is yet to confirm if the policy to allow landlords to deduct 60 per cent...